HSM Jet Spindle
More and more CNC machine manufacturers and metalworking factories worldwide are expanding capacity by upgrading existing machines with the coolant-driven HSM Jet Spindle (under trade names SPINJET/Typhoon).
The Jet Spindle offers an ideal solution for a wide range of semi-finishing and finishing machining applications such as milling, drilling, thread milling, engraving, chamfering/deburring and fine radial grinding.
Easily adapted to existing CNC machines, the HSM Jet Spindle provides immediate enhancement in performance, machining time, surface quality and tool life.
In addition, the Jet Spindle technology allows operators the ability to monitor the rotational speed of cutting tools in real-time; optimizing cutting conditions for even more all-around machining efficiency.
Coolant-driven Technology
The HSM Jet Spindle system uses the machine's existing coolant or cutting fluid supply as a pressurized energy source (20 to 40 bars), rotating a turbine in the range of 40,000 to 60,000 RPMs.
When the Jet Spindle is fitted to a standard machine, it can run small diameter cutting tools at up to 50,000 RPMs, with performance levels at 4 times the output, without sacrificing accuracy.
Utilizing coolant or cutting fluid, as a resource freely available in the machine, eliminates the cost and hassle associated with introducing an outside power feed – air supply or electricity.
High-speed machining elevates the temperature at the tool/workpiece interface. However the flow through the coolant-driven Jet Spindle, not only achieves higher speeds, but actually helps prevent thermal shock to the cutting tool for more efficient chip removal.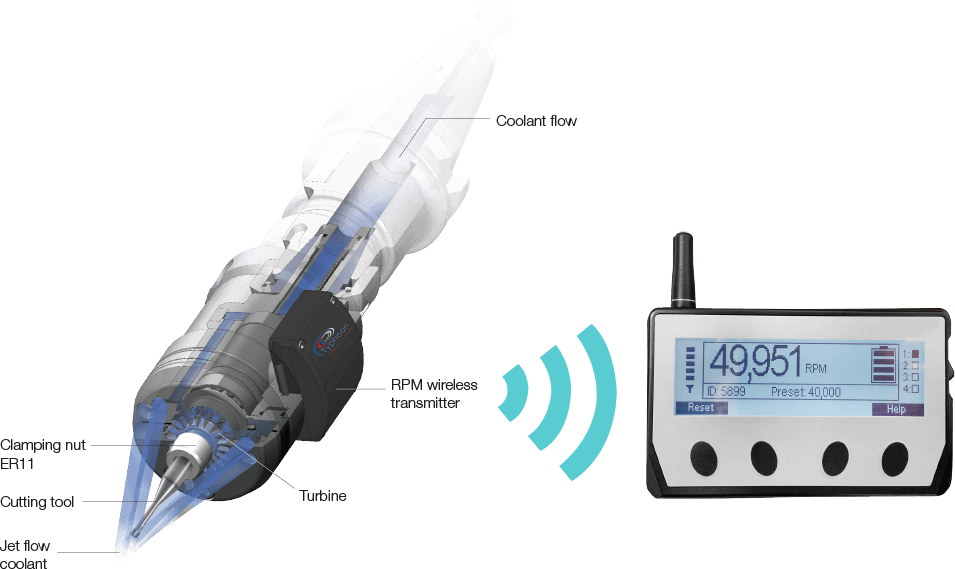 Plug & Play
The HSM Jet Spindle is a convenient "plug & play" device, enabling stress-free machining without the need for operator intervention.
The compact design is engineered for a perfect fit into the ATC or tool magazine, as with any other standard tool, automatically clamping it onto the CNC machine's original spindle.
The HSM Jet Spindle is quickly prepped for operation using a standard tool holder with a collet chuck. Cutting tools are clamped with an ER11 spring collet.
The HSM Jet Spindle is easily mounted on the ATC or tool magazine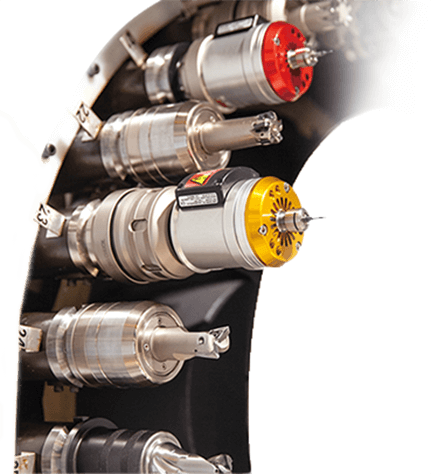 Compatible
Easily mounted on all Milling Centers & Turning Centers/Lathe Machines.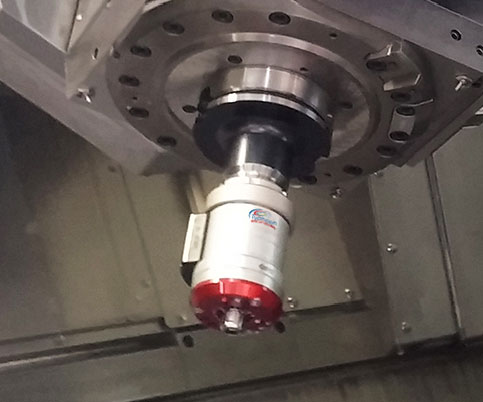 Turn Mill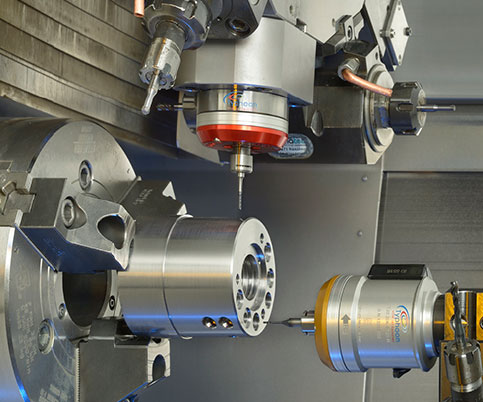 Turning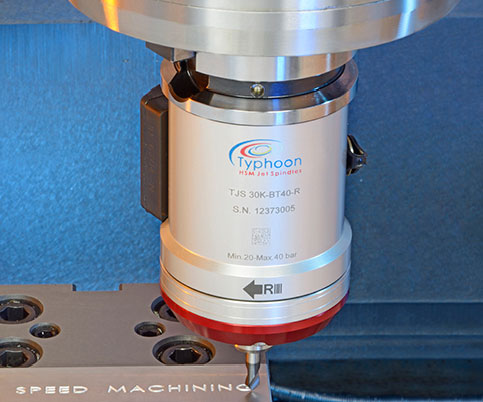 Milling Centers
The HSM Jet Spindle system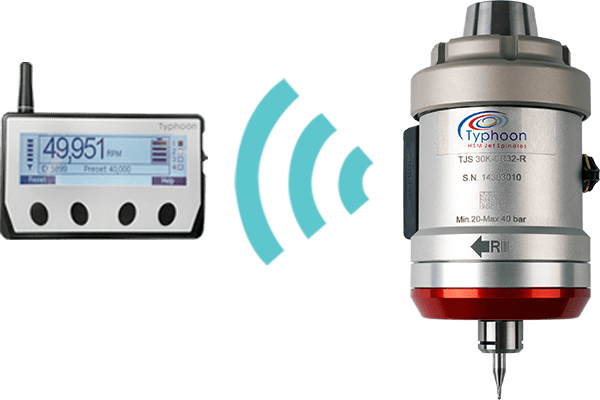 Contact Us
The HSM Jet Spindle is hard at work increasing productivity and profits in metalworking factories worldwide.
Contact us for further information about how our high-speed coolant-driven spindle technology can help you.